While cruising the work exchange site Helpx, I stumbled upon a program where you can work with exotic animals and decided to apply. Volunteering with Safari Voluteers ended up being an amazing experience I'll never forget.
Their Story
Ned and Tat were two tourists visiting a Thai zoo outside of Bo Phloi, Kanchanaburi and they were appalled at what they saw. Tigers chained to tables, monkeys eating dog food and rice in a barren concrete cages, something needed to change.
They talked with the zoo's owner whom was open to the idea of change. He let them start the volunteer program, enriching the animals environments, improving their health, diet and training practices.
While it is a slow process, replacing current money making methods with unproven ethical alternatives (while trying to navigate the bureaucracy of Thai business practices), serious progress continues to be made and the program continues to grow (there are now 6 full time volunteers in addition to short term volunteers have reached a volunteer total (with the full time volunteers) as high as 14 at a time).
In addition to the standard safari tourist offerings, the volunteer program promotes their ethical elephant treks, zookeeper for a day program, a three day program and custom tailored experiences for interested tourists.
Whether you'd like to volunteer, contribute, or visit, contact Tat at Safari Volunteers (The website itineraries and prices where out of date when I wrote this so If you're interested, contact them directly).
My Experience with Safari Volunteer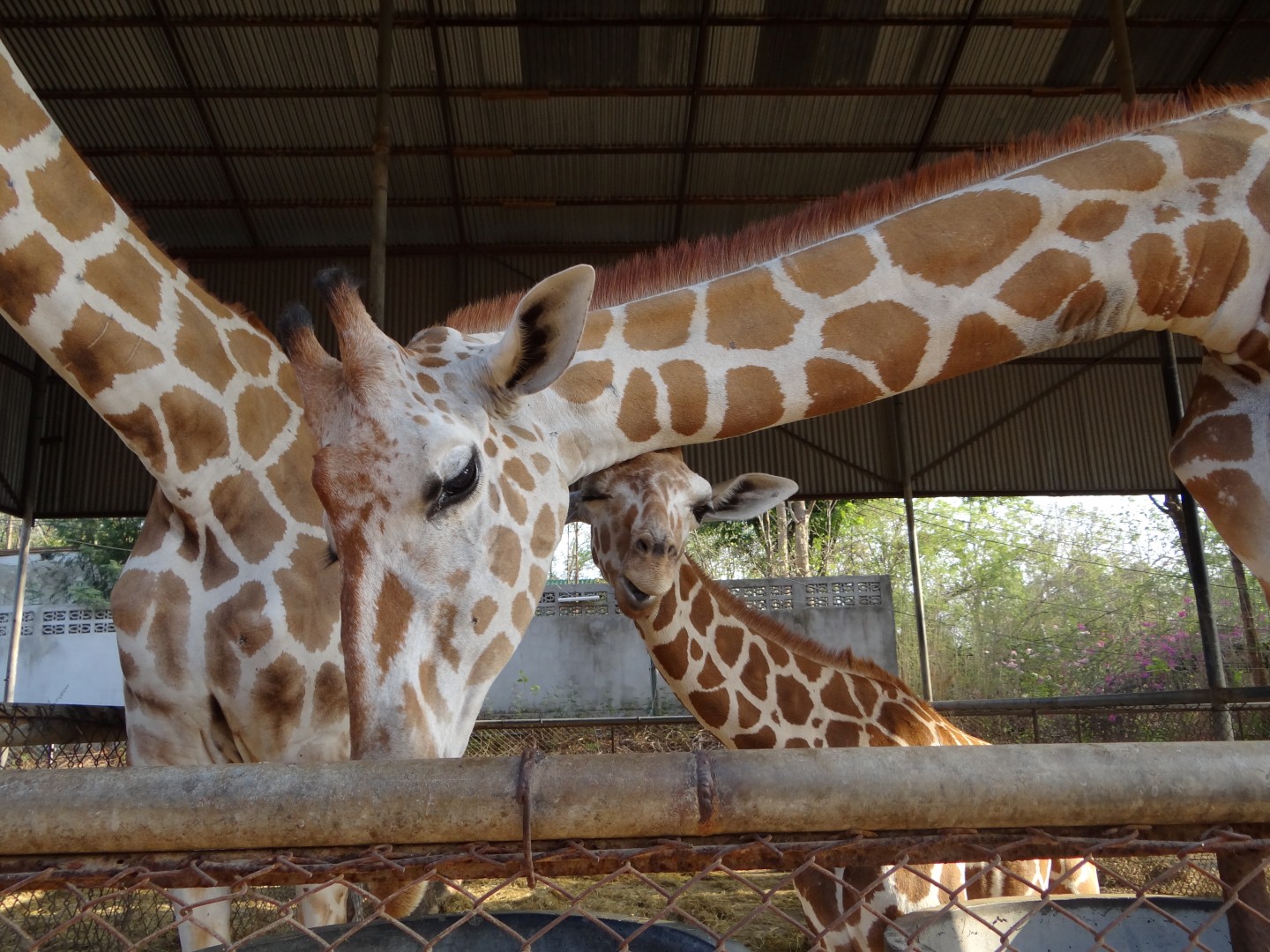 Working with monkeys, big cats and a baby owlet wasn't something I ever thought I'd get to do but it sure was an amazing experience.
Waking up every morning, we'd make a plan for the day, how everyone would contribute, what who was working on that day. After plans were made, we'd go feed the animals and clean the cages, grab breakfast and split to go work on our projects.
Over the course of the week I was with the program, I hand fed monkeys, binturongs, giraffes, zebras, a tiger and leopard cub, helped trained a owlet to survive in the wild, rode an elephant without a saddle, swam in a jungle river, learned to make spicy papaya salad, got to know the personalities of many of the animals, and made friends with some really awesome people.
Tat the Tiger Cub
Weighing in at 21kgs, Tat the tiger was no small kitten. After getting to know Tat, she became my favorite animal at the park. Tat was incredibly strong and playful but once I learned about her personality and tiger's behavior (their eyes dilate before they strike) I was able to spend a great deal of time in her cage.
Over the course of the week, I spent hours with Tat, playing with her paws, feeding her, petting her and even laying down beside her. It was a Magical experience.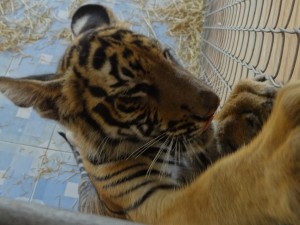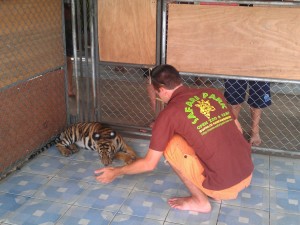 Buddy the Spotted Owlet
Torn by the choice of supporting the animal trade and letting a malnourished owlet die, Ned bought Buddy at a market in Bangkok in order to get him healthy and release him into the wild.
During my stay, I got to spend a lot of time with Buddy, feeding him and teaching him to hunt.
Day to Day, watching him grow and develop was incredible. I watched him go from missing the bugs right in front of him, to catching them, swooping down from a tree to grab worms to swooping in to grab a quick beetle. Every day Buddy had another milestone on the way to being released back into the jungle to live a normal life.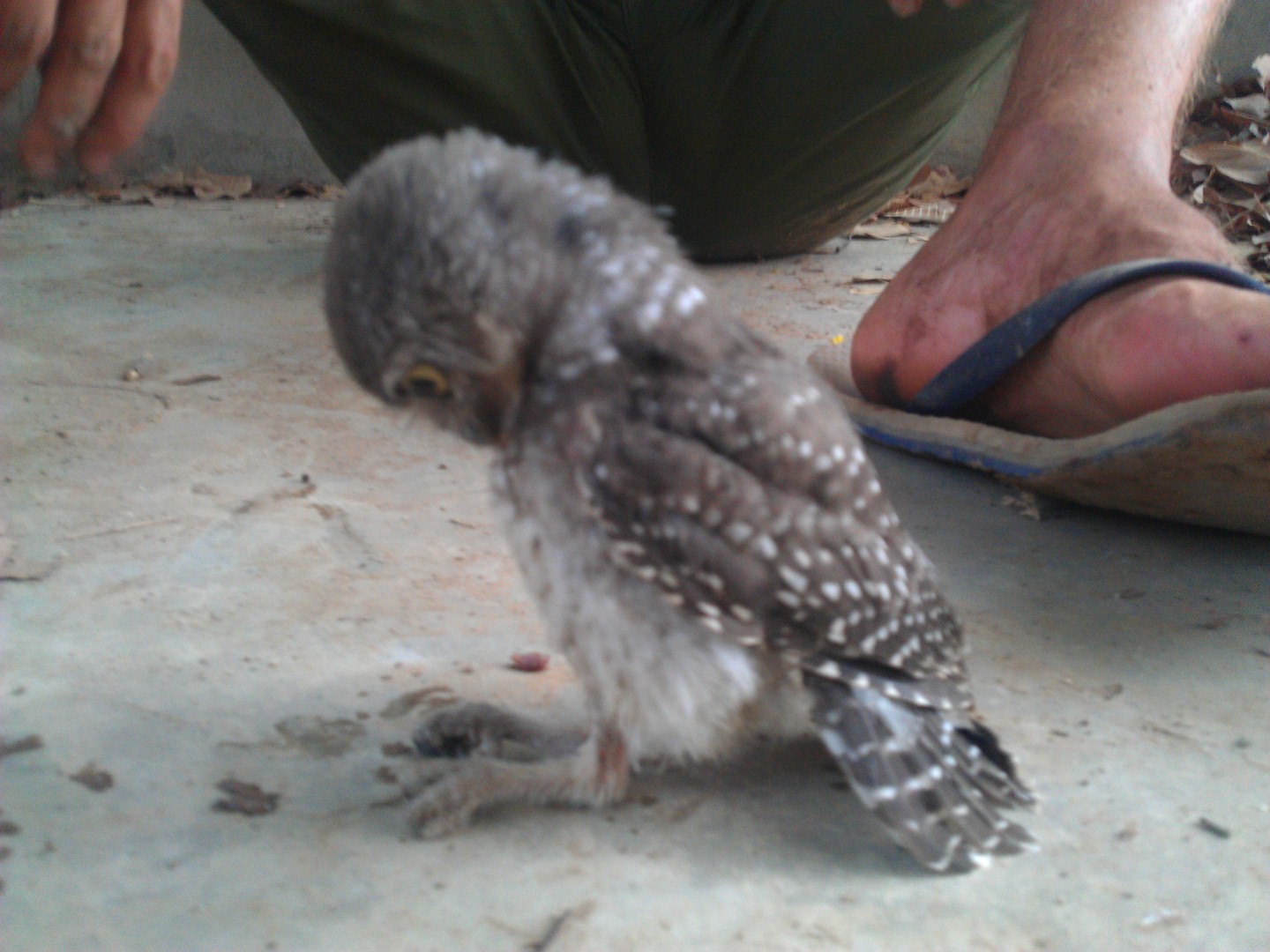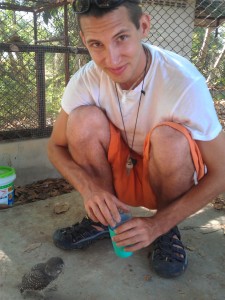 I wish the program and those running it the best of luck and hope to be back again soon. If you'd like more information, check out their site or facebook page.