When plans fall apart you'll be frustrated, angry, worried and anxious but it's not the end of the world.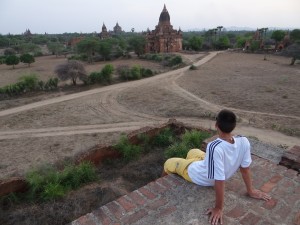 After flying to Thailand, I had 30 days of traveling before my Thai visa expired and I needed to leave the country. I was planning on heading to Cambodia and working my way around the region but ended up going to Myanmar. It's when those plans fell apart that really spun me around.
What happened
Several travel communities (Helpx, Couchsurfers) online have companion lists where people can list their plan as well as contact others headed in the same direction.
Through one of those sites, I received a message from a traveler looking for someone to join her on a one month trip throughout Myanmar (Burma).
I knew very little about Myanmar but I decided to agree, just before leaving the US for Thailand.
Most of my time in Thailand I didn't have the use of my computer (charger issues) and, in addition to online revenues shriveling I was unable to plan or research my trip in Myanmar. I would be flying blind, relying only on my companion's research and what I'd heard from other travelers along the banana pancake trail (I knew I wanted to see Inle).
Only two days before the day of our flight was my schedule for Myanmar, my companion arrived in Bangkok. We planned to meet and she needed to get a visa… neither of those things happened.
The night before our flight we were supposed to meet up to get some details worked out and get to know each other a little. We were meeting at a bar on Khao San Rd.
I made it to the bar, 3 stories above the chaos that is Khao San an ordered a drink.
Watching the crowded street over the balcony, listening to the live music and chatting with other travelers, I was having a great time talking and playing Khao San's best game 'spot the lady-boy'.
I never got to meet up with my would be companion. Maybe our bars were confused, maybe there was another like it. Another time.
I continued hanging out with my new friends and drinking.
Two o'clock in the morning I was back where I could get wifi and checked my messages. I had received an email saying she was getting her visa 'tomorrow' (the day of our flight) but that couldn't be… maybe the email was delivered a day late.
While a one day visa is possible, they're picked up from Myanmar's embassy only after 3:30pm and our flight was before noon.
Realizing the mistake, we were both in a panic. Maybe she'd meet me the following day in Yangon… but it was a weekend… embassies are closed on weekends… shit.
No plans, no information, no place to go when I landed… I scrambled on my phone in futility as two travelers I'd been hanging out with, playing guitar in the street and telling stories walked by.
They'd been in Myanmar two months prior and told me not to worry. Everything would work itself out.
It was nearly 3am, I had to wake up in five hours.
Working itself out
Even though I was still a bit worried, my new predicament forced me to be proactive. I started conversations with all the travelers I could spot. Eventually (in the line for immigration in Myanmar) I ran in to a pair of guys from Holland and hit it off. They didn't have much of a plan yet themselves.
We shared a cab from the Airport to downtown Yangon, and ended up at a great guesthouse.
Impact
Halfway through my month in Myanmar, everything is going great. While there have been moments of uncertainty (standing at a bus station without a clue where I wanted to go) I have embraced the chaos.
While it's a little uneasy traveling without a guidebook, information or a plan I've found that it has effected my traveling style and I'm enjoying in more each day.
Though I will do a little more research in the future, wandering aimlessly, getting lost, following the wind and the words of other travelers has generated more impromptu adventure then I would have experienced otherwise. I am enjoying my trip more then I would have if I had a plan.