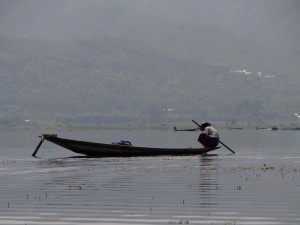 Inlay (Inle Innlay Inley) Lake very well may be Myanmar's (Burma's) most visited tourist destination and it was literally the only place in Myanmar where I found any more then a handful of tourists/westerners.
I arrived in Inle, from Mandalay via night bus and as with every other bus in Myanmar, taxis where waiting for us when we arrived.
The bus station for Inle is quite a distance from the town (Nyaungshwe / Nyaung shwe) and you'll definitely want a ride. We were able to pay 1000 kyat (a little over $1) per person to get into town.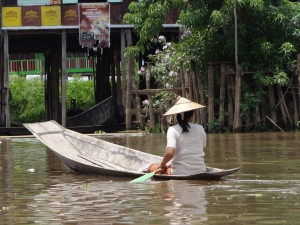 Following suit with the rest of my trip, I had no plans on arrival. I had no idea where I was going to stay, or what I was going to do but things would work themselves out.
Where to Stay in Inle
I ended up at a guesthouse called 'Remember Inn' with a few other travelers I'd shared the Taxi with and three of us decided to share a triple.
The Remember Inn, like most guesthouses in Myanmar didn't charge us for our first night (since we arrived after midnight, a huge benefit of the night buses) and unlike other guesthouses, they didn't charge us for our first breakfast (I think this was due to their lack of organization).
While they weren't the most organized place, they are still recommended for their relaxed environment, reasonably priced accommodation (around $10 per person in low season) and 'Best in Myanmar' complimentary breakfast (menu of options, fresh fruit juice (mmm… mango), fruit plates, etc, etc… all served in the dining area on the roof).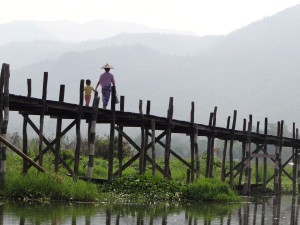 What to do in Inle
Like most of the travelers I met in Inle, we all felt 'the vibe' instantly. Inle was a place to kick back, relax, and take it easy after weeks of bumpy roads and long bus rides.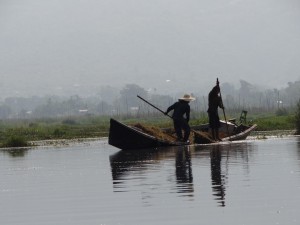 Every traveler I talked to, myself included, ended up spending more time in Inle then planned.
Other then relaxing, exploring the calm (but somewhat touristy) town, hiking (many people trek in from Kalaw), biking around, and having a nice meal (there are many western restaurants in Inle) the main attraction from the area is the boat trip on the famous lake.
The boat trip takes you on a tour of the lake, viewing the picturesque landscapes, hydroponic gardens, longboats and a glimpse into local life. The basic boat trip cost 15,000 kyat (~$17) for up to six people (depending on the boat). Tours can be arranged at the bridge or through your guesthouse.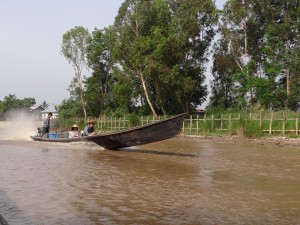 Make sure your boat has parasols (if it's a sunny day) and tell your boat's driver to skip the shops (par the cigar shop if your interested). The shops are tourist traps with over priced trinkets that you really don't want to see.
*You can also save a few bucks by picking any local restaurant you see for lunch. The one the driver will take you is overprices, if you don't request elsewhere.
Tips for Inle.
Locals here are more jaded towards tourists then the rest of the country. Behave. Respect their culture. Don't just invade their home and exploit it.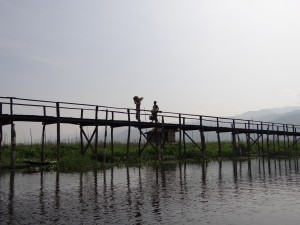 There's quite a bit of foreigner pricing here but you can still find honest people (I got 4 full sized mangoes for 500 kyat ($0.55) in the market) Make sure you ask around and know the local price if you're on a budget.
More often then not, you get charged more for your meal then what it costs. I'm not sure if this is because the locals are bad at math or because they're trying to rip you off. Note the menu price of what you ordered and let them know if the total is off. (this is true all over Myanmar).