Recently, in my post How much does it cost to live in paradise? – Koh Phangan, Thailand I informed you all about the costs involved with living on the beautiful island of Koh Phangan for an entire month and due to some expressed interested, I wanted to share with you how you can find a house to rent on the island.
Where on the island?
If you've never been to Koh Phangan before, you might want to get to know the island a little better before you settle into a long commitment.
Check out phangan.info for more information about  Koh Phangan, and a map of what's where.
Tips: Generally speaking the North and East are relaxing and private. Haad Rin (Southeast) is where the full moon party is (the busiest and noisiest place on the island). In the South Baan Tai has the most frequent nightlife and Thong Sala is the largest town (great for buying everything except seafood which is best in the fishing village of Chaloklum in the North). Up the West coast is where a lot of yoga students stay.
Finding a House
Online
Like most westerners, I'd rather have a house booked, ready to move into, right when I get to the island and I spent a lot of time online looking for places to rent.
This is not the way to go.
Though it may be possible to find a place online, the company I dealt with was flaky and unprofessional and prices are usually higher online then if you find a place yourself.
One exception you may want to explore is in the facebook group "Koh Phangan Conscious Community" where members often post places to rent or sublet.
On the Island
Once you're on the island, you'll have a much easier time of finding a house to rent.
You might want to get a bungalow for a night, somewhere to place your bag, and spend a day exploring the island on motorbike, looking for your ideal house.
With your free tourist map in hand, or the GPS on your Smartphone explore the areas you think you may want to live. You'll find houses and signs with Thai phone numbers everywhere.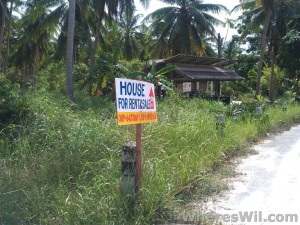 Call the number on the sign (Thai SIM cards are cheap but make sure your phone is unlocked) and the landlord will be there to show you around in just a few minutes.
The Houses
While looking for a house, I saw places ranging in price from 5,500 baht/month up (with most one bedrooms costing 8,000/month). Most places I looked at included all utilities (water, electricity, propane) and wi-fi but some do not. Every house had different kitchen supplies, appliances and furniture and many things will come into play while you're deciding what place is best for you. You should definitely test out all of the services (water, lights, wi-fi, cell service, etc.) before agreeing to anything.
I found it. Now what?
Try not to sound to interested and if you like a place, offer a little less then asking price (I got my place for 6,000 rather then 6,500 just by asking "6,000?")
Once you've agreed, pay for the month and you'll be handed the key. There's no paperwork, just move on in.
Most of the landlords say their last tenant just moved out and that they need to clean the place (this may or may not be true) so if it isn't clean already, they'll clean it before you move in.
Now kick back and enjoy your time in Paradise!
Take a look at the house I found…