After a month living in Koh Phangan, leaving Thailand the day my visa was to expire I was now in Malaysia where I would be starting work as a volunteer research assistant starting on the 18th.
What did I do?
With almost three weeks to explore before my position started, I took the opportunity to explore the country a bit before I would be settled into one location. I wanted to be as cost effective as possible and ended up couchsurfing for most of my accommodations.
I arrived in Penang after my minibus, that was supposed to drop me in Butterworth (where I was to meet my couch surf host) failed to do so and I got a bed at a new, up-and-coming hostel Super K. After making friends with the owners, by the first of the month, I was able to stay free for teaching them about digital marketing and helping them set up their website.
After a bit I met up with my CS.org host in Butterworth and spent a week exploring the area, and hanging out with Shobee, and her meeting her brothers when they came to visit her for the weekend.
Next, I caught a ride with Shobee, her brother Aroon and his girlfriend Yvonne to Ipoh (they were on their way to KL) where I caught a bus to the Cameron Highlands. I stayed cool (cold at night, I needed extra blankets) at Daniel's Lodge where I spent my time in the highlands making friend with other travelers when I wasn't busy exploring the local jungle barefoot and visiting tea plantations.
After my time in Cameron Highlands, I took a bus to Kuala Lumpur where I stayed with a CS host near the Petronas towers for almost a week, exploring the area and checking out the nightlife. I also meet up with Aroon (Shobee's brother) and explored the Batu Caves, the touristy market on Petaling St., and ate at some local favorite spots.
I then took a bus from KL to Kuala Terengganu one day before my volunteer position started. I splurged on a hotel room (I was too tired to search for cheap accommodations) and explored the large market, got my sandals repaired by a cobbler, ate some Durian and walked around China town.

After that point I was working and most of my expenses were covered.
I was getting into the grove of things and didn't travel much but the perks of my position allowed me to explore some uninhabited islands in the area as well as spending my time snorkeling and getting in shape.
Grand Total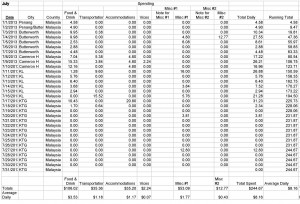 Every cent from my first full month in Malaysia came to a total of – $244.67
Food & Drink – $106.02
Transportation – $35.36
Accommodations – $35.20

Total necessary spending $176.58

Vices – $2.24
Extras – $65.86

'unnecessary' spending $68.10

Extra things I bought that increased my costs:
Things to note:
While couch surfing is a way to save money, it is more then just that. You have an opportunity to learn about a country and a location from people who live there, experiencing things you never would have otherwise.
If you look at my Daily Spending Flow, it is much more volatile then last month. Expenses change more when you're traveling then if you just stay in one location.
My Costs Last Month (June 2013) : Next Month (August 2013 *Coming Soon*)