I spent all of August continuing my work as a volunteer research assistant in Terengganu, Malaysia.
As part of my arrangement, I was living with the professor I was working with, and my room & board was covered. My expenses were pretty low.
The first half of the month was still the Muslim holiday Ramadan and in Terengganu (the most conservatively Muslim state in Malaysia) the experience, watching how much influence religion had on people, business and the culture of a country was pretty unique.
What did I do?
On August 9th we started celebrating Raya. We were welcomed into homes and fed until we could eat no more. I unexpectedly ended up staying with a different professor from the University's family (I didn't have anything, not even my phone even phone) for a long weekend where I visited locals, hiking in the jungle, eating local fruit from the family orchards and visiting a few Malay weddings.
After the first weekend of Raya, I Island exploring for a second time.
I then made friends with a group of American English teachers who were spending a year in Malaysia on the Fullbright program. I started going out more and finding my place in Terengganu.
It was about that time, my new camera (the RX100 M2) arrived from the States. I could take pictures again! (It was a Birthday present otherwise this would have been quite an expense)
My new group of friends invited me along with them for an amazing weekend on a houseboat on Tasik Kenyir lake. Swimming. Relaxing. It was great.
I celebrated my Birthday (August 28th) with new friends, great food and bowling.
My last weekend in August I decided to treat myself for my birthday so I headed to Perhentian Kecil and got my PADI Open Water Diving Certification. It was an amazing experience.

How Much Did I Spend?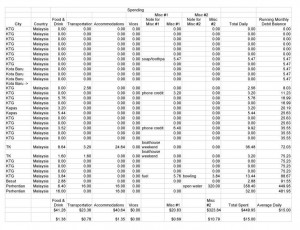 Every cent from my month in Malaysia came to a total of – $449.95
Food & Drink – $ 41.28
Transportation – $ 23.36
Accommodations – $ 40.64 (Perhentian & Tasik Kenyir)
Vices – $ 0.00
Extras – $ 24.67 (bowling, soap, phone credit, etc.)
PADI Dive Course – $ 320.00
My daily total was $15/day ($4.21/day without Diving Cert.)

Things to note:
I had a pretty unique experience in Malaysia which would be difficult for another traveler to emulate but this shows you that it is possible to travel cheaply in Malaysia as well as showing you that volunteering (through sites like helpx) while traveling is a viable option.
Additionally, My month could have been much cheaper had I not explored, had a social life, or avoided my biggest expense …learning to dive but I was more then happy to trade money for those experiences.
My Costs Last Month (July 2013) : Next Month (September 2013)