While volunteering in Malaysia, on my birthday weekend, I ended up getting my PADI open water diving certification from Quiver Dive Team on Perhentian Kecil.
I was somewhat hesitant about incurring such a large expense as a budget traveler (along with the idea of falling in love with such an expensive hobby) but decided to treat myself.
Perhentian was the best option in the area and I drove up for the long, holiday weekend with a friend, splitting accommodation.
I did some shopping around. There were places as low as 950 Ringgit (just under $300) but I decided to pay 1000 Ringgit ($315) to get my certification done through a highly recommended facility, The Quiver Dive Team.
About Quiver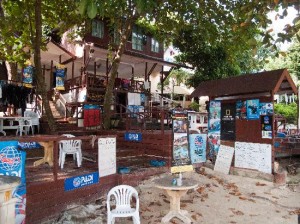 The Quiver Dive Center is located just off the jetty on Perhentian Kecil's Coral bay. It is the  only National Geographic center in Peninsular Malaysia, has won many awards and maintains a student to staff ratio no higher then 4:1.
It is probably the best dive center on the island and is located in the quiet part of the island (away from the bars).
Getting Certified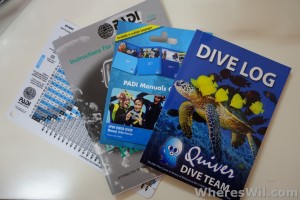 Getting certified as a PADI open water diver starts off with watching hours of boring, videos direct from PADI while filling out and information packet on what you learn.
Once that is complete, your instructor will go over the information and answer any questions you have, concluding with an easy written exam.
In the next section of the process, you prove you can swim and float and start diving in a controlled environment (you could stand up to get to the surface).
Finally, you so some actual diving off a boat.
During all of your dives you will be taught, and tested on new skills by your instructor including what do do when your regulator gets knocked out or your mask gets knocked off (you have to take off your mask under water), how to ascend and descend safely, navigating underwater, communicating underwater, deal with buoyancy, etc.
Each dive will make you more confident under water then the last and you'll start to feel natural as you explore your new underwater world (a popular diving area in the South China Sea filled with a vast array of colorful sea-life).
Overall Thoughts
I'm glad I spent the little bit extra to learn at a great dive center. I really feel I got my moneys worth and that I was diving with professionals (which really helped when pushing my comfort zone).
I enjoy diving and need to start working more to be able to afford my new hobby.
I would recommend quiver to and diver, experienced or otherwise, planning to visit the island.
I wish I could afford an underwater camera.
If you'd like more information on Quiver, check out there website.