In my mind, there are three (main) ways of getting a plane ticket…
#1 Rewards Tickets
Rewards tickets are tickets that are practically free, though often require you to pay taxes and/or a fuel surcharge (depending on the company). You generally accumulate frequent flier miles or points in an a loyalty account that you can spend on plane tickets and seat upgrades once you have enough. While it is possible to fly for free exclusively using rewards tickets, doing so is a complex topic that I will write about at a later time.
#2 Standard Airfare
You know where you want to go and when you're going. You might be able to save a small percentage checking different ticket searches, checking back a few times, buying in advance, using different airlines, etc but generally the most of the prices from different websites will be pretty close. It's very rare that I buy standard airfare but I use Kayak.com or something similar because it compares different prices for you.
#3 Deal Airfare
This Is where I operate.
So… how do I get a good deal?
In short? I Don't care.
I don't care when I leave and I don't really care when I'm going.
There are always deals. Always.
…but if you want to go to Thailand on the 5th and come back the 23rd, there's only so much that can be done.
Alternatively you can be flexible on just one condition "I have this time off of work, I want to go somewhere warm" or "I want to go to Switzerland sometime this Summer" and still find a deal.
For the best deals, you have to be quick. They're rare and expire within hours of hitting the internet (My 3 flights NYC -> Milan, Prague -> Paris -> Mumbai cost me <$200 total but the deal was only available for hours)
These are usually if you don't care where or when. I check the website Theflightdeal.com almost everyday when I'm in the US because everytime they find something under $0.06/mile from a major US hub, they post it. They have multiple deals a day which usually expire withing 48 hours of posting. You'll be able to find something in the time frame OR the region you want to go but you need to be flexible.
If you can't be that flexible, you need to do a bit more work and use websites like Matrix Airfare Search, Skyscanner.com and Kayak.com and search for your trip by month or week view (you can also search flights 'to' everywhere on skyscanner if you don't care where you go). You have to play with the dates, airports, duration of stay, everything. It can be a lot of work …but saving hundreds of dollars on a plane ticket is worth it to me.
Once you find a deal put the details into either the airline's website, check CheapOAir (they might have further discounts) or  Kayak.com to purchase it.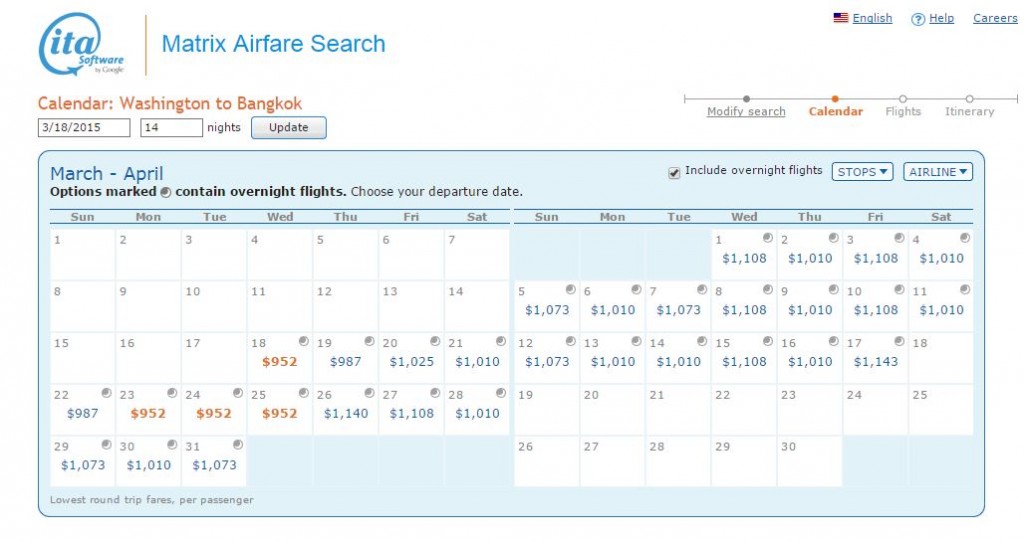 (#4) Discount airlines & Airline Employees –
I Don't really consider this a a category on its own but they may both be other options. If you or a family member works for an airline, they generally have perks that allow you to travel for cheap or free but unless this is already the case it's not worth getting the job just for the benefit.
Discount airlines are another option but they're basically a standard airfare. They cost less then typical airlines but it isn't a deal or sale you sacrifice comfort for your dollar and have to pay for every little thing (food, an aisle seat, luggage) that are generally included with other airlines. Using budget airlines, in my opinion, is only worth it for short flights but you'll have to make that decision yourself.
Resources
These are the sites I use. I get no kick back for mentioning them. Everyone likes something different but I recommend…
Play around with where and when and you'll see how prices move depending on length of stay, day you leave, destination, etc.
Matrix Airfare Search – Powered by Google this is the best Airfare search I'm aware of and has many advanced tools that can help when planning a trip. You can only search airfare here, if you want to purchase you have to plug the deal you found into another site.
CheapOAir – A site that sometimes has extra discounts on airfare you deals you find somewhere else. Search and find a deal, then check this site with the same dates/information to see if it could be the best place to buy.
Kayak.com – a search aggregate that compares prices on multiple sites and included a month view option.
Skyscanner.com – another search aggregate that has options for the traveler that doesn't really care. You can search for flights of a particular length leaving anytime with in a week, month or year and even open your destination to "everywhere" and sort by cost.
Theflightdeal.com – A website that posts deals on flights under 6 cents a mile as it finds them. This only applies to major hubs in the US but they find some pretty killer deals.
Side note
In the new age of airfare everything isn't always what it seems.
Many airlines are now opting for a "pay for everything" business model that can hide the true cost of your flight. You want a carry on? checked baggage? a meal? …You might have to pay. Know the terms of your ticket and everything that's included …and what isn't.
There are also budget airlines that sacrifice comfort for savings and while a quick $25 flight from KL to Kuching is no problem for me, I wouldn't cross the Atlantic without leg room and a reclining seat.
Other Tips
While it is helpful to check prices again and again, make sure to either clear your cookies or operate in 'incognito mode' when looking at airfare. Many companies will raise prices for users that have checked pricing more then once.