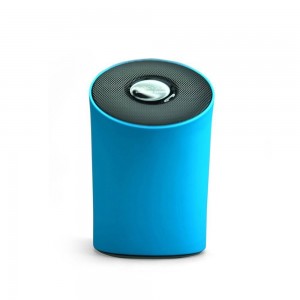 I love listening to music while spinning poi but headphones always get knocked off when I'm spinning. That's why I got my first portable speaker (in Thailand) …and I was fairly happy with the one I got.
A few months after getting it however, I was less then impressed with the battery life, the wire connections, and the features that stopped working.
Throughout my trip to Asia I encountered many other travelers with small, portable speakers and even considered getting one another traveler had gotten and liked but I'm glad I didn't.
When I got home from my trip to SEAsia, I bought my Lepow and I couldn't be happier.
I spent lots of time doing research and looked at travel speakers all the way up to the $200 mark before I finally settled on the Lepow Wireless Bluetooth Speaker (<$35) and I've had it for 7 months so far.
I'm impressed.
The Lepow easily pairs with the Bluetooth in my laptop and my cell phone and it produces unbelievable sound from such a small unit.
It's louder, deeper and crisper then even my laptop, by a considerable margin, and it can fit easily in your pocket.
This speaker is…
Compatible with all Bluetooth enabled devices and automatically connects once paired


Produces 360-degree of impressive sound

Generates 7 hours+ of playback (powered by a lithium polymer battery which charges from via standard micro-usb plug)

Has a built in microphone for speaker phone

Weighs under seven ounces and fits in the palm of your hand (3.5in x 2.3in)

Is packaged in a unique travel mug (not really useful for backpacking but nice)

Includes 3.5mm flat audio cable and a flat Micro USB cable (for wired audio and charging)

If you're like me and want something besides your headphones to provide you with music you'd expect in your room at home, this little speaker does an impressive job without breaking the bank.