Many people headed to Myanmar are told many myths about the country including how expensive it is.
Once in Myanmar I found that it was much cheaper then I had expected (though I was there in low season).
Accommodations and transportation being more expensive then neighboring countries such as, I found many budget options, especially in the 'off season'.
How we Found a Place to Stay
My travel plans had fallen apart just before getting on the plane and when I finally arrived in Myanmar, I was hot, tired, stressed, and without any idea were I going to stay. I grabbed a taxi and headed downtown.
Walking down the street, along side my taxi, I saw a young western girl wearing fisherman pants (the first westerner I'd seen in Yangon). I called for her attention and asked her if she new a place to stay. She recommended "the one next to 'pearl' something".
The Hninn Si Budget Inn was what I found.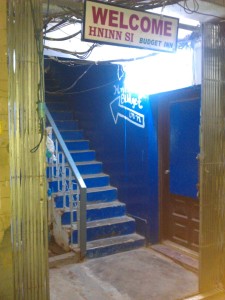 Though it was not much to look at from the street (many travelers I met in Myanmar ended up at it's more expensive, but less enjoyable neighbor, 'The Pearl'), this budget hotel (Three people sharing a quad cost us $30/night or $10 per person (in the off season)) ended up being the most impressive accommodations I've stayed in during my travels so far in Southeast Asia.
What can a Budget Traveler Expect?
As any traveler knows, budget doesn't always mean clean or comfortable but at the Hninn Si Budget Inn in Yangon, Myanmar, that's just what we found.
I was greeted with smiles from every employee at every encounter and felt nothing but welcome during my entire stay.
Just after checking in at Hninn Si, we (myself and two other travelers) asked the guy at the front desk if we could get a taxi (assuming they would call for one), moments later the young man returned having flagged down a taxi from outside. He'd already told the driver where to take us and negotiated a good price for us for our fare. This was only a glimpse of the service we would receive during our stay.
In addition to air-conditioning and free Wifi, the Hninn Si Budget had a complementary breakfast that they was custom catered to whatever your plans for the day were (whether you wanted it earlier or later then it normally was).
The cleanliness at Hninn Si was also on another level. A friendly employee stationed on every floor and at the front desk 24/7  periodically clean the floor, service your room or tidy up the shared bathrooms (The employees would clean the restroom literally after every time a guest used them).
The owner and staff was more then happy to answer any questions we had about Yangon, Myanmar, and share any information they'd gotten from other guests whom had been traveling in the area.
The owner, Mike, helped us create our plans, drew us maps of what we wanted to see, arrange our transportation (free of charge), had a custom breakfast prepared so we could catch the early bus and call a plethora of hotels where we we were headed to find out pricing information and make reservations. Our needs and expectations were more then satisfied.
While room prices vary depending on the time of the year, I will keep Hninn Si in mind any time I'm in Yangon.
Though they don't currently have a website, you can contact them at Hninnsi.budgetinn@gmail.com or visit them at they're address No.(213-215), Botataung Pagoda Road, Yangon, Myanmar.
Note: this was not a sponsored trip, I was just thoroughly impressed with this accommodation.