For anyone visiting Kuching in the Malaysian state of Sarawak on the island of Borneo, Bako National Park is a Must See, and I can't stress that enough.
If you're in the area and you don't want to see incredible animals, unique plants and diverse terrain… why'd you come to Borneo?
How to get to Bako National Park
Getting to Bako National Park is simple enough for anyone in Kuching as Bako is a major tourist destination.
Ask around to see which bus stop, nearest you, leads to Bako and take the Petra Jaya Bus No. 6 for a price of 3.5RM ($1.10) each way to the Bako's ferry terminal where you will pay your entry fee (20RM ~$6) and catch a boat to the national park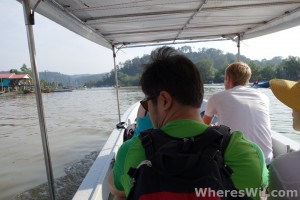 Round trip boat rides (~30 minutes each way) cost 94RM (~$30) split between up to five people (it only cost me 18.8RM ~$6).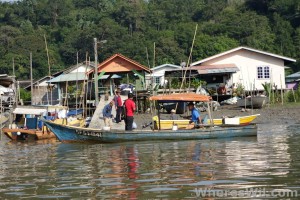 Single travelers are in high demand as most people travel in pairs. That being said you wont wait more then a minute or two until you find other visiters to fill your boat.
Everyone on the boat must return with the same boat at the time arranged between you and the captain. If you plan on staying overnight, make sure to plan accordingly.
What to do at Bako National Park
The main draw of Bako is nature and as such hiking is the primary activity.
Bako is also famous for its large nosed proboscis monkeys which you are almost guaranteed to see. (I saw ~25 of them during my day at Bako)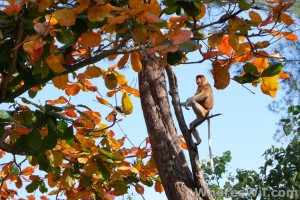 After checking in at the main park headquarters (required) you will be given a map.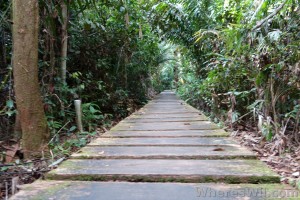 At the HQ you will be able to ask about the different trails, what each is known for (animals, terrain, waterfalls, beaches, etc) and approximately how long each take.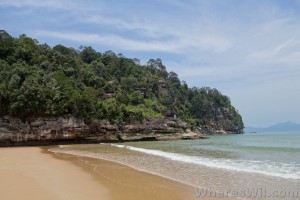 Staying at the Park
If you're interested in staying at Bako, the park offers a range of accommodations from Dorms at 15.90RM up to Chalets 159RM (two rooms). To book accommodations you either need to do so at the park or by calling the HQ ahead of time. +60 (0)82 248088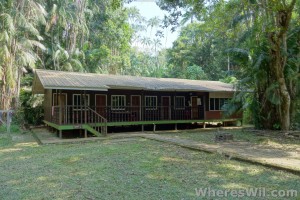 Staying at the park allows you to see more and explore at a relaxed pace as well as allowing you to go on a guided night tour.
Tips…
Go early and to get your full day's visit. You need to leave Bako by 4pm to catch the last bus back to Kuching.
Bring food and water. Though available at the park, it is much cheaper if you bring your own supplies.
If you want to hire a boat on Bako to do further explorations, try and find a group of people to split the costs ahead of time. Boats wait around Bako offering custom tours.
Most of the monkeys are spotted near the HQ (someone told me that they feed them).
Don't feed the animals. Just don't.
Don't litter.
The Views…