What did I do?
October 2013 was an adventurous month.
It started off in Kuching, where I spent more time then I had originally thought I would. I wanted to go to Mulu National Forest and needed to be in Miri (~1000km away) to get there and I decided I wanted to try and get there hitchhiking. It took 7 cars and 26 hours but I made it to Miri.
I caught a flight on a little plane deep into the jungle to Mulu where I spent a few days caving, climbing mountains and hiking.
Mulu is amazing and I hope to go back someday.
After Mulu, I caught a plane back to Miri and then straight to Kota Kinabalu where I made some friends at a hostel and spend a few days getting my PADI Advanced Open Water Scuba certification and even did a night dive.
A friend met up with me in KK and we caught a ride, to Mt Kinabalu with a Finnish couple who had rented a car and were beginning their round-the-world trip.
After a few days at Mt K, My friend and I split ways and I took a bus to Semporna.
Though there was a waiting list to get permits, I wanted to try and go diving at Sipadan (a top 5 world dive site).
I took a boat the island of Mabul. An island of sea gypsies and tourist scuba divers.
I found a room a local was renting out and went diving every day. I even managed to get a permit and dive Sipadan where I swam in a cyclone of over 15,000 barracuda.
After a long week of incredible diving, making friends, and spinning fire on the beach with locals, I jumped on a bus, into a plane, and finally a taxi headed to Ubud, Bali where I would spend the next 2 months.

How Much Did I Spend?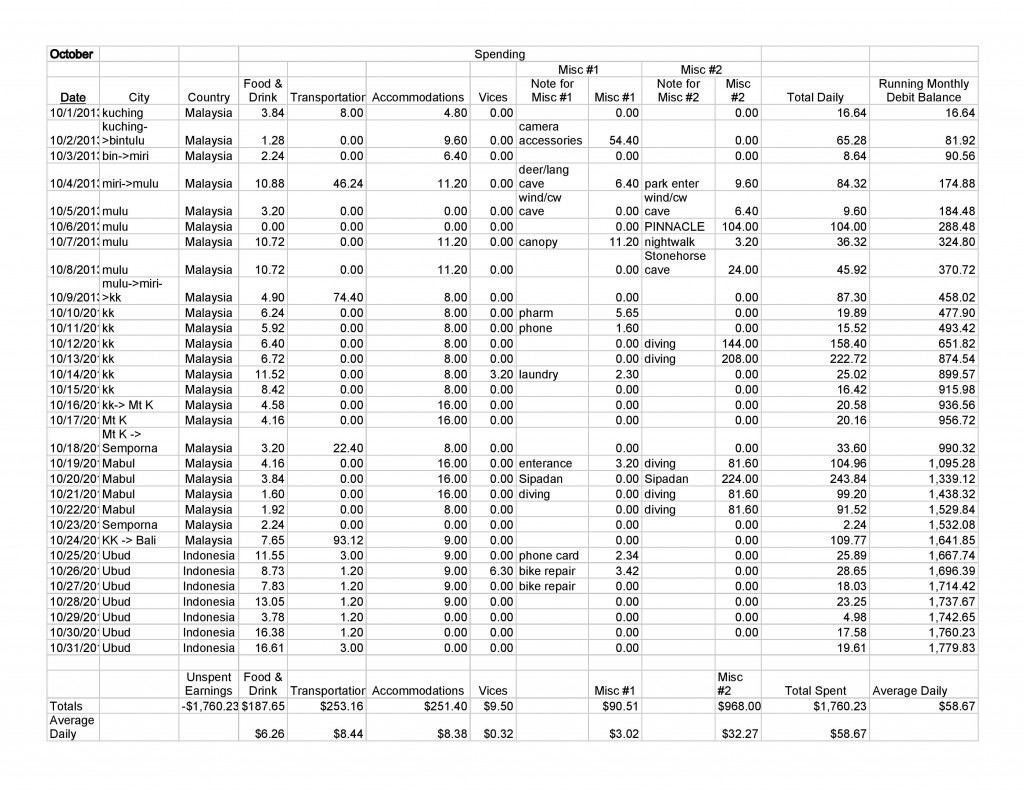 Every cent from my month in Malaysia came to a total of – $1,760.23

Food & Drink – $187.65
Transportation – $253.15
Accommodations – $251.40
Vices – $9.50
Adventure – $988.80
Extras (Camera Accessories/Sim Cards)– $69.71
My daily total averaged $58.67/day.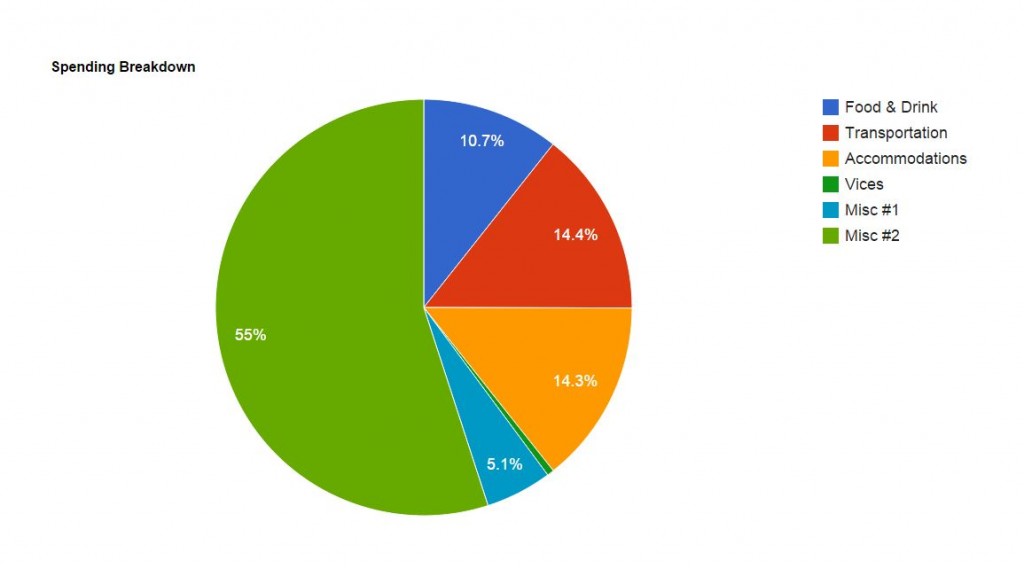 Things to note: This was an expensive month but I wouldn't trade it for the world. I saved money by not staying at the scuba resort (I got my own room for less then a bunk) but there weren't many ways to cut costs. I had many once in a lifetime experiences and met many great friends. In my mind, there isn't a better use for money.
My Costs Last Month (September 2013) : Next Month (November2013 *Coming Soon*)