This is a list of the travel gear I'm carrying with me on journey around the world. If you'd like to see an exact packing list of everything I'm bringing, please click here. I will also be writing complete reviews on travel gear which can be accessed via this Gear Review link. I hope this resource can help give you ideas of what kinds of things are useful on the trail. If you're interest in any of these products I ask that you please use my affiliate link when making a purchase. This helps support the site at no cost to you. Thanks!
Pack
Osprey Men's Waypoint 85 – I originally wanted the Waypoint 65 but got the 85 on sale. Great, well made pack with a lifetime guarantee and a built in daypack. Built for travel, this pack has added security features and is extremely comfortable. If it is possible for you to pack light, I recommend getting the smallest bag that works for you. I need unfortunately need my electronics and poi gear.
Pacsafe 85 Anti-Theft Backpack And Bag Protector
– A great way provide added security to your pack. If you don't have access to a locker you can secure your pack with a padlock to a fixed object. I very rarely use this because I normally have a secure place to keep my things when I travel but it's great to have when you need it.
Electronics
Computer
Dell XPS 12.5-Inch 2 in 1 Convertible Laptop – On my last trip, I had a netbook and though small, it just didn't cut it for anything that required and power so I needed this upgrade. This computer does absolutely everything I need it to, can be used as a tablet, and is a very convenient size. Additionally, the new Haswell chipset gives these machines battery lives that often exceed 7 hours.
Note – Don't bring a computer if you don't need to but if you do bring an extra charging cable. Depending on where you are, they may be hard to replace.
Camera
Sony RX100 M2 – After my first camera met its watery grave, I upgraded to this professional quality, pocket sized camera and I couldn't be happier. Read my full review.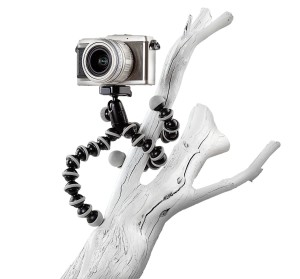 Joby GorillaPod – Amazing little tripod. Can be wrapped around tree limps or setup on almost any terrain. Great for setting up a long exposure shot or taking pictures of yourself in remote locations.
XShot 2.0 Camera Extender – Another great way to get pictures including yourself. Travel alone? Don't want do step away from your camera? This product is for you.
Phone
Sony XPERIA Z2 FACTORY UNLOCKED International Version – After my last phone died, I did a lot of research before deciding on the Z2 and I couldn't be happier. 20.7 MP camera, waterproof, dustproof, great battery life and has NFC to interact easily with all my other devices. I also recommend this charging adapter, glass screen protector and minimalist case (if you're hard on phones you might want an impact resistant case). Look for a full review in the future.
Other Electronics
Lepow Portable Wireless Bluetooth Speaker – I've had many portable speakers and this one is by far my favorite. Affordable, good battery life, amazing sound and easily connects to my laptop or phone. Highly recommended. Read my review.
Joby GripTight Mount – Makes it possible for my phone's 8mp camera to be even more useful making in compatible with my GorillaPod and my XShot.
Footwear
ECCO Men's Torre GTX Hiking Shoe – I spent a lot of time looking at shoes, knowing that I was going to be in all types of climate. Most trailrunners are covered with color and are by no means club/dinner friendly. These shoes are lightweight, durable, comfortable, warm, breathable and look great. You'd expect nothing less from a brand like ECCO.
Crocband Flip Flops – Sandals/Flip flops are neccisary in the tropics or around cultures that require you to take off your shoes before entering buildings. Find a pair that works for you. I loved my last pair but after many repairs from cobblers throughout SEAsia, I needed some new ones. I'm giving these a shot and I'm liking them so far.
Other
Energizer 7 LED Trailfinder Headlight – You should always have a light with you and this is the one I recommend. I like them so much I have 2.
MICROFIBER Travel Towel – Lightweight, quick drying, antimicrobial, very utilitarian. Must have.
Entertainment/Poi
Cone Poi – I have a lot of poi and these are about the most fun ones to play with and learn new tricks. They come with balls that can be replaced with water balloons, rice, LED heads, etc depending on your preference. My absolute favorite toy to play with and it's great exercise too.
Fire Poi – While I make my own poi, these are the professional heads I recommend. Extremely hot and bright flames, these heavy heads may not be for everyone.