Independent travel can sometimes be lonely and I have not yet developed the traveler's mentality of being able to strike up a conversation with just anyone I see along the way (not that I haven't made friends along the way). That being said, I seem to be drawn to a particular group of people, my people, flow artists.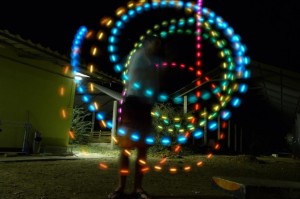 Whether it's walking along on a white sand beach or through a local city park, I'm always on the lookout for a cool place to practice spinning poi.
Like me, other flow artists from all disciplines are doing the same and they're whom I find it easiest to strike up a conversation with.
I've met professional fire performers that work full time at bars and others that have been traveling the world for years and years making a living performing on the street as well as at resorts, conventions and other shows around the world. I've met artists wielding poi, staffs (single, double and dragon), s-curves, rope dart, duel fire whips and both traditional and contact juggling balls.
While no professional wants to hand over the golden key of success, those individuals whom I've met have given me tips and told me a lot about how to get into the profession. They gave me tips for performing for an audience, networking in the flow circuit, how to gather a crowd, and they told me that if I want to be successful performer, I'll need to learn new toys besides just poi.
Each time I move on to a new location, I'm taking a piece of the performers I've met with me. Like the spinners from home, they've all left an imprint on me with technique, skill and knowledge.
While I don't know that I'll ever become a fire performer exclusively, my current plans lend me a considerable amount of time to hone my skills and master my flow.
While working location independently and traveling the world, a fire focused future seems like a dream.
Only as I continue down my path will I see where it's heading. Who knows.