What did I do?
I started the month on Perherntian Kecil, finishing up my Open Water Diving Certification, then returning to Terengganu to finish up my two months of volunteering at a University there as a research assistant, and hanging out with the friends I had made before it was my time to move on.
My last weekend in Terengganu was spent relaxing on Kapas island  before returning to Gong Badak to say my farewell to my friends and colleagues.
I took a night bus from Terengganu to KL and then made my way from the Putra bus Station to the LCCT Airport terminal where I caught a flight to Kuching.
Taking a cab from Kuching's airport to my guesthouse (The Nook) and meeting Franky, the owner is where my amazing adventures in Borneo started.
After getting my Malaysia Visa extended… I explored Kuching with Franky and a few new friends I'd made at the guesthouse.
I visited The Cat Museum, Kuching History Museum, The Orchid Garden, The waterfront and another museum or two.
I visited an Indonesian boarder market.
I went running in the jungle (at night) with the Kuching Hashers during the Mooncake Festival followed by a feast and some competitive drinking.
I went EXTREME Adventure caving which involved rock climbing, swimming and a bit of diving.
I explored the Bako National Park, Kobah National Park, Semenggoh Nature Reserve, Matang Wildlife Center, Santubong mountain Damai beach and put countless miles on my feet.
I finished up the month staying with locals at a traditional longhouse living the simple life.
(I'm sure I missed a few things)
My time in Kuching has so far been my most jam packed and adventurous time so far on this trip. Welcome to Borneo.

How Much Did I Spend?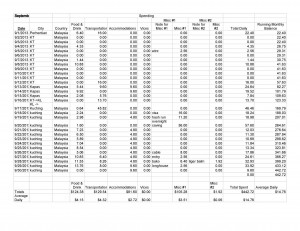 Every cent from my month in Malaysia came to a total of – $442.72

Food & Drink – $124.38
Transportation – $129.54
Accommodations – $81.60
Vices – $ 0
Adventure – $81.28
Visa Extension – $16
Extras $9.92 (replacement laptop cord & tiger balm)
My daily total averaged $14.76/day.
Things to note:
I would have not gotten to experience anything near what I did if I had not met the people I did. You meet awesome people when traveling that can introduce you to new and amazing things… if you let them.
Stay open to opportunity in your travels.
My Costs Last Month (August 2013) : Next Month (October 2013)