Be sure to bring crisp new hundred dollar bills and tell your family and friends you'll be out of touch for the duration of your stay… Bullshit.
Even the most up-to-date blogs and resources still say that Myanmar is disconnected and the only explanation for this is either that the authors haven't been to Myanmar themselves or they just copy what others have said and with a country changing so rapidly, that just doesn't work.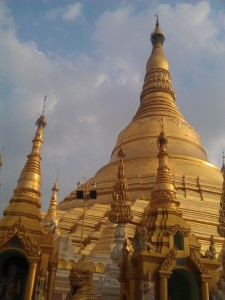 Getting Money in Myanmar (Burma)
While it is true that if you want to use US currency (you sometimes get a better rate) that your bills do need to be from the new series and in perfect condition (no ink marks or tears), that's is no longer the only option for money in Myanmar. You no longer need to carry your entire trip fund on you, in cash.
Stepping off the plane at Yangon airport there are several ATMs (one by baggage claim and several after customs), so you'll be fine to withdraw enough cash to pay your taxi.
Even though most of the locals don't yet have debit cards, ATMs are scatter throughout major cities and around tourist attractions.  Anywhere the government or the banks think that tourists will spend or need money, there's a machine or plans to have one installed.   (A local even told me that there will be a push for their citizens to start using a checking account/debit card this year.)
Phone and Wifi Internet in Myanmar (Burma)
Just a few years ago Myanmar was very disconnected in terms of communication.
Phones and even SIM cards (which are practically free in most western countries) where priced in the thousands of dollars and only the very wealthy could afford a phone.
Every year the infrastructure grows and their prices drop, as Myanmar moves into the digital age.
While you can buy a Sim card as of April 2013 for under $2, they still have a fairly high 'per-minute' call rate and do NOT have data plans.
Instead of using a telephone, I recommend Wifi.
To compensate for the communication issues, guesthouses and hotels are becoming more and more Wifi friendly and many do not charge extra for the service (even most budget hotels have Wifi though it may be a bit slow).  Note:  There are frequent power outages throughout the country on a daily basis but almost all guesthouses have generators to keep their lights, fans, and wifi up and running.
In even some of the more remote (yet tourist friendly) areas of the country, where they exclusively use generators for electricity, you'll find resorts with Wifi and internet cafes charging less then $2/hour.
Safety in Myanmar
For almost everywhere I've visited, I've had people warn and even attempt to deter me going on my trip or visiting a particular destination and Myanmar is no exception.
While there is risk with any travel, hell waking up anywhere in the world involves some risk, most of the time these warnings are based on ignorant and fear.
All travelers must learn to avoid a bad situation, avoid being scammed, avoid falling for lies or being manipulated but all in all, Myanmar is an extremely safe place (in my experience) for traveling.
Even though there is a current, violent conflict within the country between Muslims and Buddhists, I have never been more welcomed by a country's people.
Friendly people, severe punishment for crimes against tourists, and Buddhist society all contribute to the thoughts I had, walking alone, down back alleys in big cities ".If I was in a different country right now, this would not be safe.".
Though you should be cautious traveling anywhere in the world, armed with a smile in Myanmar should be more then enough protection.
Myanmar (Burma) is now easier to get to, easier to learn about, safer and more connected with than ever before. Get there before it changes.