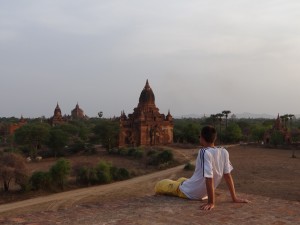 Bagan is a small town filled with countless temples. It's a beautiful place for anyone that enjoys architecture.
While I recommended that Bagan makes it onto everyone's Myanmar itinerary, a day or two is really all you need unless you really injoy temples.

Tips for Bagan
The countless temples are spread out over a great distance and you have the option of taking a horse drawn carriage or renting a bicycle (the guesthouses said renting motorbikes was prohibited but you might find a local that would rent you their bike and if you can find one, that's what I recommend). Covering Bagan on foot would not be advisable.
Also be warned that Bagan has been one of the most tourist affected areas and there will be people selling paintings, bronze and jewelry in almost every temple you visit.
There is a $10 government fee for Bagan but sometimes you can avoid this. Certain buses will stop at the ticket station and some guesthouses will check that you have it. This may be avoided (I didn't pay the fee). Just make sure to keep an eye out for officials checking tickets, avoid them and you'll be fine.
What to do in Bagan
Explore! Go around to temples, see what you want to see.
When you get tired of the temples it's time to move on.
There are small villages along the river in Bagan that rarely see foreigners. You can visit, play soccer with the children and have a wonderful experience.
Restaurants in Bagan are a bit away from the temple area, and like the rest of Myanmar, nightlife is rather nonexistant.