After catching a ride to the  bus station in Ipoh (from my CS host who was on her way to KL) I hopped on a bus to the Cameron Highlands (16.8RM or ~$5.10).
It was my first time on a bus in Malaysia and they were much, much more comfortable than the cramped buses in Myanmar there were only 3 seats per row (instead of 6 +1 in the isle).
After a two hour drive in scenic Malaysia I arrived in Tanah Rata, one of the many towns that make up the Cameron Highlands.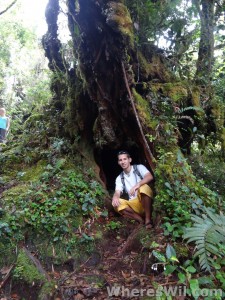 Some Basic Info on The Cameron Highlands
The Cameron Highlands are a tourist destination for Malaysians as well as foreigners and it can get quite busy on the weekends.
Because it is almost exclusively a tourist destination, prices are a little higher then in Penang but still cheaper then most islands and parts of KL
Unlike most countries in SEAsia, bus prices are posted and you are unlikely to get ripped off for being a foreigner (though you still need to negotiate for other means of transportation)
CH can get COLD! The Highlands are to date, the only area of Southeast Asia where I have been cold in jeans and a jacket.
Where to Stay in Cameron Highlands
During my time in Cameron Highlands, I stayed at Daniel's Lodge which was only a short walk from the Tanah Rata bus station.
Though it was a bit worn, I would definitely recommend Daniel's Lodge to any backpacker visiting CH as it  had a convenient location, a friendly helpful staff (that could arrange tours or transportation), a social backpacker scene and a welcoming 'home-like' vibe (they welcomed you to take their dog hiking with you).
Dorm beds started at 12 RM ($3.65).
How to Get Around in Cameron Highlands
The Cameron Highlands is a large area but I definitely recommend walking wherever you can so you can take full advantage of the beautiful scenery and cool climate.
If you're just exploring Tanah Rata there is no need for anything other then you're own two feet. Likewise if you're going to hike a nearby trail.
If instead you want to go to Brinchang, a trail farther away or on a tour of the area, it may be best to use other means of transportation.
There is a local bus that goes past most tourist stops, and though it is unpredictable, it costs less then 2 RM
If you're licensed, there are motorbikes available to rent at some guesthouses but be sure to be careful of dangerous traffic.
There are also taxis available but be sure to negotiate. The fare between Tanah Rata and Brinchang is ~RM6 ($1.82).
What to do in The Cameron Highlands
The main draw to Cameron Highlands is the scenery (and cool climate) so the best activity in CH is going on a hike in the jungle.
The first time I went hiking barefoot in the jungle was here, when I climbed Gunung (Mount) Brinchang (the highest mountain in the area @ 6,666 ft). It was definitely worth the trek and was my favorite of the trails that I hiked.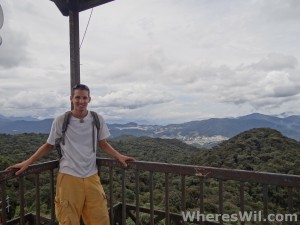 For an easier hike Mossy Forest has a wooden foot path for most of the way but like most of SEAsia, signs of people (TRASH) were easily found here.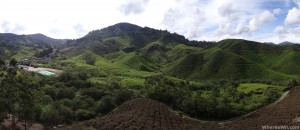 Other then hiking, the view of the local  Boh Tea plantation is definitely worth the trip (it's also close to Mount Brinchang if you have time to do both). They can arrange a taxi back for you while you enjoy a nice cup of tea.
Tip: when the plantation is about to close, most of the food (sandwiches) become buy one get one free to prevent leftovers.
If you'd like, you can also play a round of golf, go to a spa, or explore the local strawberry farms in the area (pretty much a tourist trap) .
There are however packaged tours that you can get that take you deep into the jungle in search of the giant Rafflesia flower (they were out of season when I went but you can ask if they're around before you book), into a aboriginal village to learn to use a blow gun, to the local butterfly garden and depending on the tour to a tourist trap or two (if you don't specify otherwise).
All in all, the Highlands are a great place to spend some time and relax.
A Treat
Cameron Highlands is known for its strawberries and as such, I wanted to try ice cream made with local berries.
After a good amount of searching, I found an excellent ice cream shop hidden on the second story of the main strip of Tanah Rata near the road to go to Daniel's Lodge (there was a paper printout with "Ice Cream" in the window by the stairs leading to the shop.
They had 3 options for local strawberry ice cream ranging in decadence (I recommend the middle option as the top tier is a bit too sweet for my taste).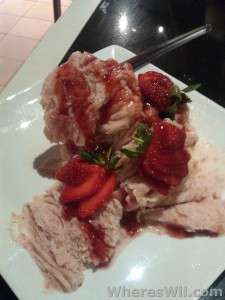 Next?
After my time in the Highlands, I caught a bus to Kuala Lumpor. The 4 & 1/2 hour journey wrapped mountains and beautiful views but at times was rather nauseating. It cost 30 RM ($9.12).