Though it is much easier as an American to get an International Driving Permit Domestically (go to your local AAA, fill out an application, and pay the $15 fee) you may be abroad when you discover you need it.
While traveling in Southeast Asia, I've driven a motorbike in both Thailand and Myanmar with no problems but travelers I've run into have told me that it's not as easy to do so in Indonesia. I'm told that police in Indonesia often stop tourists and fine those who don't have an IDP (International Driving Permit). Since I didn't get an IDP before I left, I needed to get one sent to me here, while traveling.
Your Options
Risk it
You always have the option of going without an IDP and taking the risk of being pulled over (Many countries have no problem renting to someone without a licence or even driving experience).
In some counties a confident smile and saying "international" while you point to your drivers license is all you need to get by without a problem.
Often the fine or penalty for driving without one is small (a warning or small fine) but this isn't the case everywhere so be informed.
A Fake
Depending on where you're traveling, you may find yourself in a place that makes forged documents for "novelty" purposes *cough* Khao San Rd *cough*.
While these fakes may work they are…
A. Significantly more expensive then a real IDP
B. Illegal. Passing off a fake ID and getting caught is a much more serious offence then driving without one in most places and can even land you in jail.
Go Legit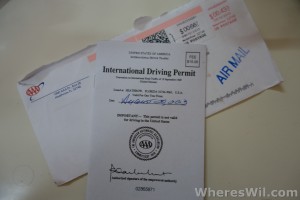 If you're already abroad and want your IDP you can send your application in from abroad with the following…
Attach 2 recent signed Passport Type Photos (2″ x 2″) SIGNED ON BACK
Permit fee of $15.00 (NO CASH) and funds for return mail (see USPS.com for rates or you can just use credit card payment)
A photocopy of 

BOTH SIDES

 of U.S. Driver's License.
It's a simple, fairly hassle free process to achieve but there is a drawback… Time.
Personally, I emailed everything and had my application sent from someone in the US to AAA. The IDP still took several weeks to arrive (in Malaysia).
If you're getting an IDP from abroad, check mail delivery times and give yourself a big window to get it. Have it sent where you'll be in a month or so.
If you're traveling and don't have an address call a hotel you can plan to stay at in a month or two and ask them if they can accept your IDP or perhaps as a friend you've made on couchsurfing.org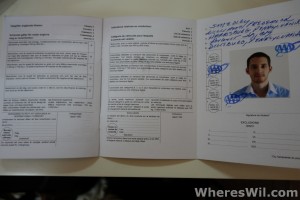 Note
The US International Drivers Permit is only a translation of your Drivers license. It is an accepted drivers license in many countries worldwide but doesn't give you permission to operate vehicles you aren't licensed to operate domestically nor does it provide any sort of insurance while abroad. Make sure you are aware of all local laws and road rules and drive at your own risk.