Daniel's Lodge is a Basic (worn and musty) backpacker lodge located just a short walk from the main bus station in the Cameron Highlands.
How to find Daniel's Lodge?
Exiting your bus, walk along the main strip for awhile.
You will see a sign that says Daniel's Lodge pointing up a street (with an arrow pointing right)
Turn down that street and keep left on the road's 'Y' where you will pass the Highlands tiny produce market, a few houses, and finally the Lodge.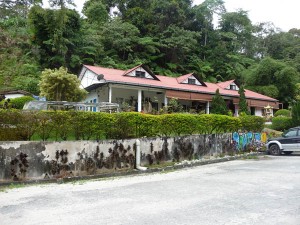 Why Stay Here?
There's no use telling you it's luxury here. It's not.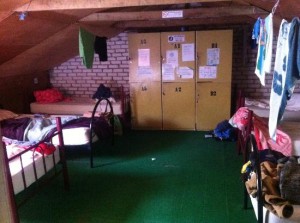 Nor is it the WiFi, hot water showers, movie room, attached bar, friendly staff, the pet dog you can take on hikes or their ability to arrange tours or transportation for you.
What Daniel's lodge is however is very welcoming.
It has a great 'welcoming' vibe and a sense of community when you arrive with a great lounge to hangout in.
It's the perfect place to make new friends as you enjoy the cool climate (be sure to ask for a second blanket for the night) and relax.
How Much We Talkin' ?
Basic dorm beds start at only 12RM ($3.72)/night (15 with a large locker) and rooms start at 27RM/night ($8.38).
Contact Them
I just showed up and they had a bed available though sometimes they do fill up. If you're interested you can get a hold of them.
☎ +60 5 491 5823 or their Website